UPDATE: due to some changes in Salem MA parking policy we wrote an update to this post, Parking in Salem – an update.
People visit Salem year round. Obviously October is the busiest month of the year but tourists flock to this historic city from April till November, giving the residents a brief respite during the winter.
If you are thinking of coming to Salem there are a few options on how to get here. You can take the MBTA Commuter Rail and get off at the Salem Depot which is a 3 minute walk to down town. From May to November you can take the Salem Ferry which goes from Central Wharf (New England Aquarium) in Boston to the Blaney Street Dock in Salem. But for most people driving is the way to get here.
Now that it is April 1 (no joke) street cleaning is in effect and parking enforcement is stronger. Last year Salem brought in $1.7 Million in parking fees. This post is your guide to the dos and don't of parking in the Witch City.
Where can I park in Salem?
Parking lots and garages are you best bet if you are unfamiliar with the area.
Museum Place Mall garage
South Harbor garage ( on Derby Street)
MBTA Commuter Rail parking lot
Blaney Street lot
Church Street lot
Crombie Street lot
Sewell Street lot by the YMCA
Front Streetl lot behind the Fire Station
Riley Plaza lot in front of the Post Office
What about resident parking?
Like other cities Salem has plenty of streets in its historic neighborhoods that offer resident parking. All residents who live in an area that offers resident only parking can go to the Parking Office at 1 New Liberty Street across from the Visitor Center and get a resident parking sticker.
In October, any resident can get a month long resident pass allowing them to park on streets that have temporary resident only parking due to the Halloween season.
Tell me about "on street" parking
If you are coming up for the day or perhaps a short stay at one of our B&B's you might be interested in on-street parking. In the down town and surrounding areas many streets have metered spots. Parking meters run from 8am to 5 or 6pm after that you can park in the spot for free. Unlike the exorbitantly prices you would pay in Boston (5 minutes per quarter) one quarter will buy you an hour in Salem with most meters having a max time of two hours. Meters take nickels, dimes and quarters so remember to bring change.
Parking Enforcement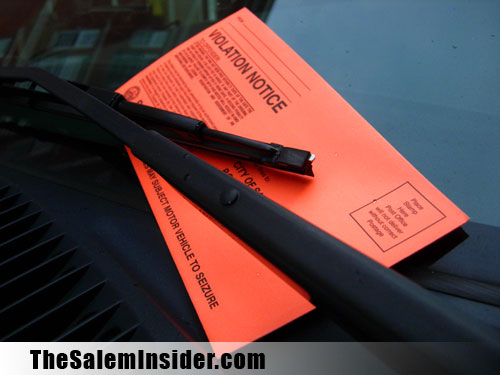 Salem meter maids hit the pavement with a vengeance every morning. Don't expect to be given any slack… ever. Do yourself a favor and remember where and when you parked so you can avoid these Salem witches.
If you do find yourself with an orange greeting card on your windshield you can take care of it any time of day or night. Simple meter expired parking violations only cost $10 which is less than parking a full day in the garages during Halloween season. For your convenience there is a 24 hour drop box in front of City hall where you can pay your ticket.