Bunghole Liquors
204 Derby Street
978.744.2251
I enjoy the bunghole for something fun and different once in a while. It's also fun to share a friends first bunghole experience with them, I love to see the look on their face. The bunghole never fails to get a smile. I love Bunghole Liquors.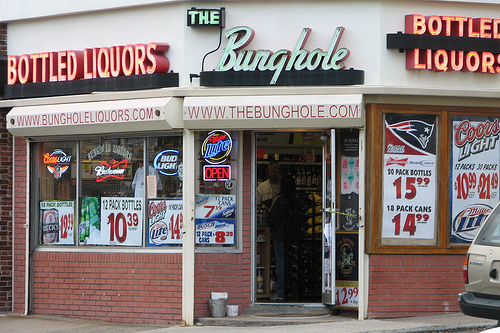 With the recent holidays, I hosted a few out of town guests who were excited to go to the bunghole of all places. This modest package store (packie and package store are Massachusetts slang for liquor store) probably sells more T-shirts than cases of beer. They have parlayed their unique name into an online brand and sell swag near and far.
Salem's Bunghole has a storied past with the building being used as a funeral palour during the time of prohibition (19th century prohibition not Salem's first prohibition in 1657). Downstairs in a room perhaps used for embalming, the funeral director and his cohorts would meet to put back a few cocktails (he put the "fun" back in funeral). For whatever reason, the group refered to this private drinking spot as "the bunghole." A bunghole is actually a hole bored into liquor casks (think scotch, wine or rum) which is plugged by a large cork known as a bung. One of the owners drinking buddies suggested that if prohibition was ever lifted he should turn the place into a liquor store. On December 5th, 1933 when the Twenty First Amendment was ratified Bunghole Liquors applied for and was granted the second liquor license that Salem issued.
There are plenty of better package stores in town but the Bunghole is fine for a neighborhood packie. And if you are like many tourists you'll want to swing by for a photo and perhaps a coosy, church key or t-shirt. Just don't forget, they sell alcohol in there too.