With the threat of an impending Nor'easter Salem has enacted a snow emergency to go into effect from noon today until further notice.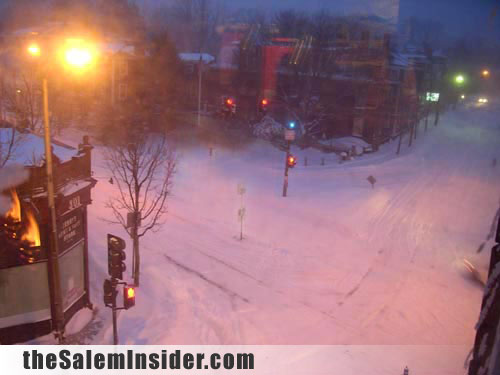 photo from the February '06 blizzard
So there's a snow emergency, I know what your thinking – "I need to run to the grocery and get some bread, milk and eggs." Why? Are you planning on eating French toast for the duration? Calm down and I'll talk you through this harrowing time.
First, look up. Do you see those street lights with the flashing blue lights on them? If you do, you are seeing a reminder that all vehicles must be totally removed from the street. So if you live in any of the areas within a walking radius of down town and your parking situation is at all questionable, get over to one of the municipal lots and park your car for free. When the blue lights are on any resident can park in any municipal lot for up to 24 hours after the emergency is over.
Okay, now that your car is safely nestled in one of the garages it's time to enjoy what mother nature has thrown at you. Instead of being all miserable and complaining as you trudge through the muck and slip through the slush on your way home, make a pit stop.
Best places to go in Salem during a storm:
Rockafellas – You get a great view of downtown and there will always be a bunch of people hanging out watching the weather whip down the street.
O'Neils – Warm yourself by the fire with a hot toddie and a bowl of shepards pie.
The Old Spot – Super cozy (now that they have their heavy winter drapes up) grab a pint and some toad in the hole, there's no better place to be than in an Irish pub when the snow is pounding.
Witches Brew – If you're down by the wharf this neighborhood melting pot is always welcoming and serving when the flakes are flying.
After a few pints, a full belly and some good Christmas cheer with your neighbors, walking home in the snow becomes a treat. That snow that falls down the back of your neck no longer irks you, but makes you laugh and remember that time you went sledding as a kid. Take the time to enjoy the sparkle that those crisp snowflakes make as they dance across the air back lit by street lamps.
Remember, it's going to stink getting up for work tomorrow morning so have fun tonight!