Change is inevitable. Living in a community that has been around for over 400 years I see reminders of the past and signs of the future every where I go. I love history, which is one reason I love living in Salem so much. For me, tangible history is so much more impactful than reading about history in a book. I want to touch it, feel it, see it and live it. Luckily for me my wife feels the same which is one reason we bought an almost 200 year old home.
There is a delicate balance between knowing what to save and what to let go. I used to horde magazines, photography magazines, work-out magazines, home improvement it didn't matter. As long as there was some information in there that I though was relevant I would keep it so I could use it some day. When it came time for me to move out of an apartment I lived in for 10 years I went through all those magazines and asked if what they had to offer me was worth me keeping them. Most of them went unceremoniously into the dumpster. When I walk about town and look at some of the older buildings I must come to the same conclusion I did with my magazines. Some of these buildings no longer have anything offer the city and must go.
So it is with the old Salem News building. At one point this building was a beautiful structure with people coming and going all day and night. It took up an entire block and was home to thriving businesses. Over the years bootblacks, pawn- brokers, tobacconists, tailors, photo studios and even an olde tyme Chinese laundry called this building home.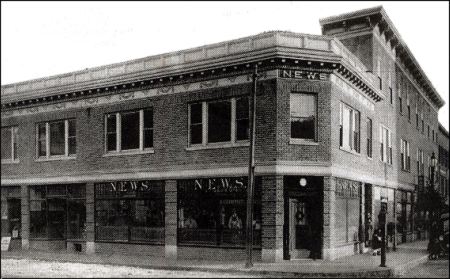 Old Salem News Building – date and photographer unknown
In 2001 the Salem News moved out of the old building above on the corner of Front and Washington and the Edgewater Cafe moved in. Further down Washington (on the right side of the phot0) the news building continues as a wooden structure (previously known as the Arrington Block) erected in 1874. From what I can tell, the wooden part of the News Building has been vacant since 2001. With nobody up keeping the building it has been left to rot and fall apart, becoming an eyesore in the down town area.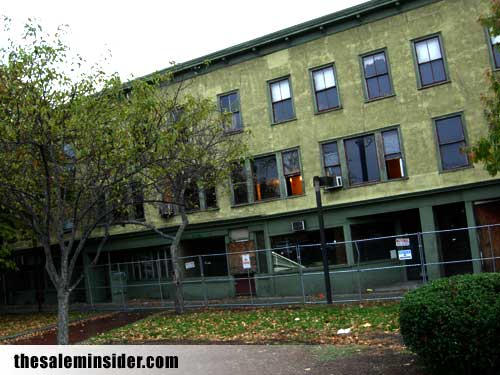 Salem News building today
I hate to see old buildings die but just looking at this structure you can tell it really is beyond repair. Thankfully it is not some architectural marvel, nor does it hold immense historical significance. It played a part in our down town for quite some time but its time has passed. It must go in order for the area to thrive again.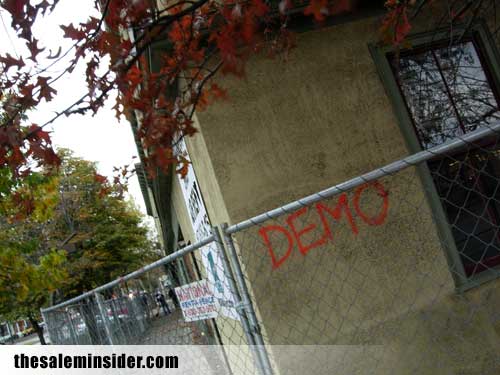 The demo crews have sectioned the area off and hopefully anything of value can be salvaged (maybe I'll sneak in there and take a peek). The structure should be razed by the end of the year and according to the Salem News:
RCG has already started the permitting process for its new building and hopes to gets all its approvals by the spring and complete construction in 2009. Under the current plan, there will be 31 residences – condominiums or apartments – and a minimum of 36 parking spaces.
For a city to thrive, new life must be interjected to its current existence. I also feel that preserving history and remembering the past allows us to have a unique perspective on the future. So while we can mourn the passing of a piece of Salem's history we should look forward to what will come.
Salem is attracting more young professionals and desperately needs this area of downtown to be fresh and inviting. Removing this building, acknowledging what it has given us and moving our community into a new phase of evolution is why Salem has endured for 400 years. With the right vision and sense of community perhaps it can make it a few hundred more.